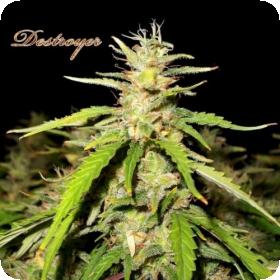 Destroyer Regular is one of the top sellers in the CBG line. It is a 100% sativa with an impressive parentage. It is a cross between a Miao Thai and a stable, early phenotype of Mexico/Columbia.
It took nearly seven years to achieve this superior backcrosses but growers and enthusiasts alike agree: it was worth the effort and the wait.
CBG reports that the effort to acclimatize the mother Thai plant proved to be difficult. As a solution to this problem, they opted to introduce the genetics of another earlier sativa strain so the resulting plant could pick up its traits.
The end result is a cannabis strain that well-represents all that is great about a modern sativa with predominant Thai characteristics. The exotic aspects of the Thai coupled with their numerous and bountiful flower sites make these plants appealing on a variety of levels.
Some sites can contain clusters of THC-rich trichomes that top 92 per square millimetre.
Destroyer grows well in arid environments. Indoor growers should pay close attention to the relative humidity and keep nutrients at low levels, particularly nitrogen. It has a flowering period of anywhere from 8-12 weeks, depending on the growing environment.
Plants grown indoors, particularly using methods like Sea of Green and Screen of Green will have a shorter photoperiod than those grown outdoors. When given more time to mature, the end product increases in quality and has a longer shelf life.
Yield is generally slightly higher when grown indoors using controlled methods.
Why Choose CBG Seeds?
CBG's enduring commitment to excellence in all areas of cannabis cultivation has resulted in the development of a number of new hybrids.
Their work includes the preservation of the history and lineage of all the landrace strains they employ, ensuring that they are enjoyed for many years and by many future generations.
Please remember that the growing of cannabis plants and the cultivation of seeds is illegal in some countries - please check the laws of your country and don't be growing any plants if it is against your country's laws.
 
Genetics:
Meao Thai & an early & stable Mexico / Colombia