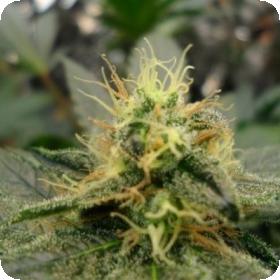 Dream Lotus Regular Seeds
Dream Lotus is a cross between a Blue Dream Sativa strain and Snow Lotus, a perfect hybrid. Aesthetically it is a real treat, it has inherited all of the Blue Dream beauty with an even nicer structure.
The flower period is also quite short now but the potency and the unique smell have remained. Dream Lotus gives large yields of amazing, thick buds which are covered in a crystalline coating of resin.
The effect is a heavy relaxation that will make users feel as though they are melting gently into their couch. This is perfect for a chilled out Sunday afternoon or for those who suffer from stress, anxiety or depression.
The scents and tastes of the plant are a combination of the classic Blue Dream blueberry along with notes of caramel, spice and Haze.
Dream Lotus is a regular strain which means that it will grow both male and female plants. This can make it not great for growers, who will need to remove those males to stop them from harming the female plants.
However this makes the plant ideal for breeders who want to put together their very own plants. They can edit out any undesirable traits and amplify the good traits by choosing the very best male and female to act as the parent plants.
This strain has a flowering time of just 63 days and can be grown indoors or outdoors.
Remember that the cultivation of cannabis seeds is illegal in some countries, please check the laws of your country before attempting to cultivate cannabis seeds.