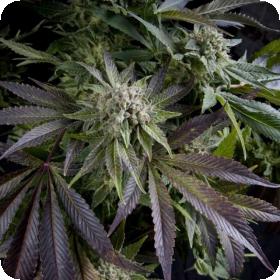 Blue Pyramid Feminised Seeds
Blue Pyramid is the culmination of a lengthy breeding and selection procedure based on the well-known and popular Blueberry strain.
Blue Pyramid is an indica-dominant cannabis strain that produces great yields and has therapeutic potential.
Blue Pyramid has an indica structure, is compact and bushy, and grows to a height of 60 - 180 cm depending on environment, root-space, and vegetative growth length.
Under 600 watt lights, indoor plants will generate extremely good yields of 600 gr/m2 in 50 - 55 days of flowering.
Outdoor harvesting will take place in September, with plants yielding 500-1000 g. apiece.
When night temperatures are low at the conclusion of flowering, the blue coloration will be considerably more visible.
Blue Pyramid has a wonderfully smooth flavour of sweet berries and exotic fruits. THC is produced at a rate of 15%, whereas CBD is produced at a rate of 1.4 percent. It has a highly soothing and uplifting impact, making it a good strain to use to relieve symptoms of sadness, tension, and anxiety.