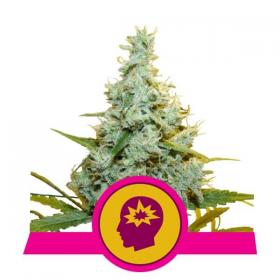 AMG (Amnesia Mac Ganja) Feminised Seeds
AMG (Amnesia Mac Ganja) is a multiple award-winning cannabis strain. It is 80% sativa and has echoes of old-school flavours coupled to a supersonic high. Its euphoria-inducing effect will banish negative thoughts providing you with positive inspiration.
This strain is a cross of Amnesia and a Mexican Haze plant. It produces good yields albeit in a longer than average flowering time, coming in at 10 - 11 weeks. High THC levels of 22%. The effect is a blend of cerebral high and a very stoned feeling.