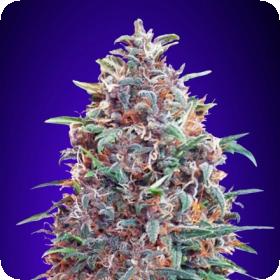 Purple Diesel Auto Feminised Seeds
Purple Diesel Auto is a result of a careful selection of the Blue Diesel Auto by selecting the purple specimens that show the fuel-like flavour of this strain.
Full-blown violet colouring takes place under colder conditions. Good returns and production of THC.
This is suitable for indoor and outdoor cultivation, as with every auto-flowering strain. Plants growing indoors reach 60 - 90 cm. Production yields between 450 - 500 gr/m2 in a life-cycle of 60-65 days. Buds are abundant and hard to rock.
Outdoor plants will grow to 100 - 150 cm taller. Two crops per season can be grown except in high latitudes and three are even possible in warmer regions of the climate and/or staggered crops so that the next planting is started before transplantation, thus saving valuable time.
The diesel flavour of the original Blue Diesel is omnipresent, with notes of forest fruit complemented to make a delicious smoke/vape. The production of THC is 16%.
Genetics:
Auto Blueberry x Auto Diesel selection