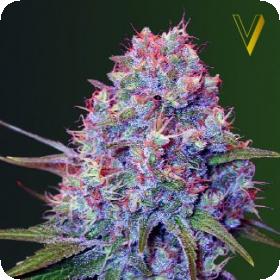 Caramelino Feminised Seeds
Caramelino is a bit of a mongrel strain, but in the best way. It is a combination of three amazing strains, Blue Black, Maple Leaf Indica and White Rhino.
This strain is a vigorous grower with a fast flowering time. Caramelino is indica dominant and has a fantastically relaxing effect. It also has a medium THC content of 17%, so it is not too hard hitting for medicinal users.
This strain is feminised and will only grow into female plants. Feminised seeds are ideal for growers, who have no need for the male plants.
The males take up around half of a regular crop and can harm the females if they are left through the flowering period. This means they have to be removed, which is a huge waste of time and money that would be better spent on the females.
Feminised seeds also tend to be higher in quality and uniformity than regular seeds. For this reason some breeders also prefer to use them, despite the fact that feminised breeding is extremely difficult.
This strain has a flowering time of 8 weeks and can be grown indoors or outdoors.
Remember that the cultivation of cannabis seeds is illegal in some countries, please check the laws of your country before attempting to cultivate cannabis seeds.