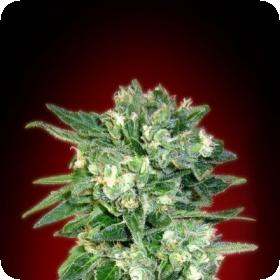 Kaya 47 is a simple, easy-to-grow medical grade strain that finishes quickly and has an unusually low THC content. The plants finish in less than 90 days on average and the finished product cures completely in under 2 weeks.
For the average medical marijuana user, this is - forgive the pun - just what the doctor ordered.
While the plants are dominant sativa, they have a distinct indica quality to them. This makes Kaya 47 an ideal strain for dealing with a variety of aches and pains, especially migraine pain, and is a very effective yet mild sleep aid.
The sativa genes lend more to the size of the plants than to the effect so expect plants that are in range of 5 feet at full maturity outdoors, 3-5 feet indoors.
Some growers state that this strain is more partial to natural sunlight but they will grow just fine indoors under 600 w lights on a standard cycle.
As the plants mature, they each develop a single large central cola that all bust bursts with quality buds. The lateral branches also lend a hand at bud production.
Outdoor growers should note that these plants are also naturally resistant to mould, fungi, and various pests common to cannabis, making them all the easier to grow and manage.
It is recommended to start Kaya 47 indoors in pots and transplant the seedlings once vegetation is in full swing. Outdoor harvest can begin in mid to late September and carry on through the month of October barring any widespread frost.
As medical strains go, Kaya 47 is sure to provide what any medical marijuana patient is looking for without a heavy couch-locking stone. This is also an ideal strain for beginners or those who are simply interested in maintaining a conservative personal stash for medical uses.