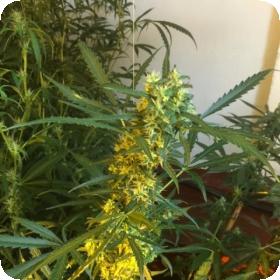 Somango x SCBDX Feminised Seeds
This strain is a high CBD version of the extremely popular, and super tasty, Somango strain. This strain is well known for its amazingly strong flavours of tropical fruit and mango which is then added to the crisp citrus pine taste of SCBDX.
This strain produces a high number of side branches, meaning it responds extremely well to SCROG. This strain can be grown in a number of environments and is very versatile.
It's high CBD production also makes it a fantastic medicinal strain that can help with all sorts of ailments.
Somango x SCBDX is a feminised strain, meaning that it will only grow into female plants. Feminised strains are designed for growers who don't plan on breeding their own crops.
For these growers the male plants are a complete nuisance, as well as being able to damage the female plants during the flowering cycle. This means they have to be removed, wasting around half of the crop and  half of the money spent on it.
Feminised seeds also tend to be higher in quality and uniformity than regular seeds. For this reason some breeders also prefer to use them, despite the increased difficulty of feminised breeding.
This strain has a flowering time of 65 – 75 days and can be grown indoors, outdoors or in a greenhouse.
Remember that the cultivation of cannabis seeds is illegal in some countries, please check the laws of your country before attempting to cultivate cannabis seeds.
Genetics:
Somango (Jack Herer x Big Skunk Korean) x SCBDx