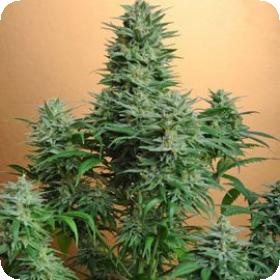 Growers who enjoy a little instant gratification are sure to love working with Papaya feminised cannabis seeds from Nirvana Seeds. This strain has one of the shortest flowering periods in their collection at only about 7 weeks.
Even better, the yields are incredible. In that brief 7 week timeframes, growers can expect to harvest upwards of 450 g per square metre and the quality is virtually unmatched.
The plants get their genetics from crossing Citral with Ice. This makes them Indica-dominant, and they have the effect to match. They grow short and bushy and are absolutely covered in dense, resinous buds at full maturity.
This makes them an ideal choice for growers who need to be able to maximize the space in their grow rooms and still maintain a way to reap a sizeable harvest.
Any indoor method will work well with Papaya but these seeds do prefer cultivation via specialised methods like SOG and ScrOG. The plants also grow well outdoors under the right conditions.
They are, on the one hand, rather resistant to pests, moulds and fungus so humidity and other common outdoor conditions are generally not problematic.
On the other hand, outdoor growers should consider the location and only grow outdoors if the growing season is long with no threat of frost. Colder temperatures are one of Papaya's vulnerabilities.
The aroma is like one would expect from any good-quality indica-dominant plant and the flavour mimics it well. Both are tangy sweet and overtly fruity.
The effects are very narcotic making this a good strain for medical users suffering from joint problems like arthritis and from other ailments including migraines and sleep disorders.
It is strong for a strain that is oft recommended for medicinal use with THC content ranging from high to very high.
Please remember that the growing of cannabis plants and the cultivation of seeds is illegal in some countries - please check the laws of your country and don't be growing any plants if it is against your country's laws.