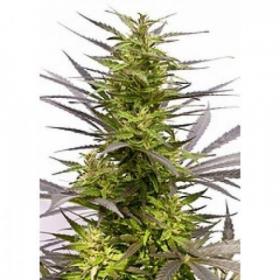 KC 42 is a stable sativa/indica hybrid created by crossing KC 639 wit New Zealand. Its dominant sativa genes present in every possible way with these plants in their look, growth patterns, and effect.
The seeds produce plants that are tall and thin with narrow leaves of a cool light green. The buds are thick, dense, and very inviting.
The average size of each plant can top 2.5 metres outdoors, but only about 170 cm indoors, making them great plants for a variety of indoor setups including soil, pots, and any hydro set up the grower might prefer.
Indoor plants need an abundance of light during the vegetative stage. Many growers recommend 'round the clock light for the first few weeks, tapered back to 18/6, then 12/12 during the flower period.
CBD's content of KC 42 is low while THC is high which makes for a good social or recreational strain. The effect is clear-headed and energetic and lasts a long time. The flower period goes on for between 9 and 12 weeks outdoors, 6 to 9 weeks indoors.
Wherever one attempts to grow it, this strain produces excellent results whether growing one plant or a greenhouse full of them.
The New Zealand genetics give this plant characteristics that are common to traditional landrace strains. With genetics that include plants bred in five countries and under mild conditions, this is one plant that likes being pampered.
Healthy plants reward with superior resistance to mould, fungus, and pests as well as above average yields.
Outdoors, these plants can produce yields upwards of 1300 g per plant. No, that's not a typo, and some growers have reported even better numbers. Harvest time begins early October and can extend into late November in moderate frost-free climates.
Genetics:
KC 639 & New Zealand strain