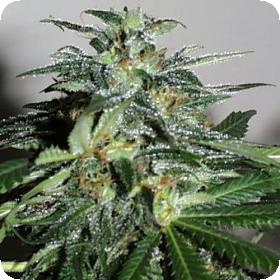 Cyber Cristal Feminised Seeds
KC Brains Cyber Cristal Feminised is a mostly indica cannabis variety that possesses all the typical qualities that indica lovers appreciate.
The seeds produce tight, compact plants that are very well-suited for indoor growing. They work well in basic potting and soil setups as well as the grower's ow preferred methods including SOG and ScrOG.
The tallest plants top out at about 125 cm indoors. Their outdoor counterparts, however, love to stretch and can reach heights of 2 metres or greater.
They grow a single large central cola with narrow dark green leaves and numerous smaller but productive flower sites throughout the plant. Internodal distances promote healthy production and growth of buds.
When fully mature, the plants fill out nicely and grow dense, heavy buds enveloped in a thick layer of snowy resin.
The squat stature and fast flowering of this strain makes these seeds an even bigger draw, as does its ease of growing even for the most inexperienced of growers. Average flowering time is just around 8 weeks and the plants practically grow themselves.
Regardless of whether it is grown indoors or outdoors, Cyber Cristal produces incredible yields. 750 g per plant outdoors is standard and it is easy to increase those numbers with just a little extra care.
This is where experience comes in handy, but it isn't essential. Harvest for this strain begins late September and continues through the month of October.
Cyber Cristal produces a strong sedative effect that leaves the user completely relaxed and very content and happy. Don't miss out on the opportunity to try one of KC Brains' great cannabis varieties.
This particular breeder is known for its commitment to producing the best quality, most stable strains of feminised cannabis and that commitment shines through in the quality of every strain they produce.