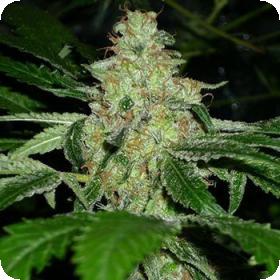 KC 33 is one of the newer sativa/indica hybrids from KC Brains. It is a super-stable hybrid cross between two amazing parent strains: Thai and Brazil.
It was specifically bred for growing outdoors, but the stability of its genes also make it a good, consistent, and predictable strain for indoor growing as well. KC33 behaves like any typical sativa strain.
These seeds produce plants that are tall and thin with light green, narrow leaves and big, thick, dense buds.
The average size of a KC 33 is about 3.75 metres when grown outdoors. They do not tend to stretch anywhere near as many indoors, growing only to about 3-4 feet. Being a typical sativa, they also take a while to mature but the quality of the product is well worth the patience it takes to wait for it.
They also require lighter than average so be prepared to run indoor plants on at least an 18/6 cycle during the vegetative stage. Some growers even recommend 24/0 for the first several weeks.
KC 33 has a high THC content and low CBD. It is an all-around good-times kind of strain but it does have its medicinal advantages as well.
It helps with all ailments typically treated with cannabis including migraines, nausea, muscle and joint pain. It produces a clear-headed, energised, long-lasting effect. KC33 cannabis plants effectively resist fungi and mould are very aromatic.
They emit smells of sweet citrus and spice as they flower and mature.
The flower period for this strain varies. Indoors, it can go for about 6-9 weeks indoors, but outdoors can take longer - 8-10 weeks on average.
Average outdoor yields top 900 g per plant and harvest can begin late September and carry on through late October. Indoor plants give yields of approximately 130 g per plant on average.