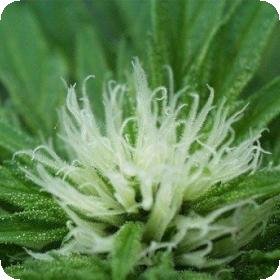 Sweet Dreams Feminised Seeds
KC Brains Sweet Dreams is an indica-dominant cross between Californian Big Bud Skunk and KC606. The two parent strains have developed followings all on their own and have been successful sellers the world over.
They have also been characterised as being very potent in effect and very generous with their yields. They are also very easy to grow - good news for novice growers!
Sweet Dreams produces plants with a real cactus look: deep green with long, broad leaves and large, dense buds. The plants also stand up well to their growing environments - arid or humid, warm or cold, they perform well.
They are also very resistant to mould, fungus, and common pests. The plants give off a distinct aroma as they reach full maturity as well: a blend of skunky hash and sweet citrus.
The plants also grow practically anywhere. They don't appear to show preference for any particular growing method so it really is grower's choice. They perform well in all kinds of indoor setups.
If they are partial to any indoor method it would be greenhouses but even then the yields are comparable to other methods. Indoor plants can grow to heights of 100 cm, while outdoor plants will typically reach at least 2 metres, sometimes more.
The real difference between indoor plants and outdoor plants is in their yields. Outdoors, Sweet Dreams can produce upwards of 900 g per plant while indoor plants will generally yield only about 130 g.
The buds have a high CBD content which makes sweet dreams a favourite among members of the medical marijuana community. It does have a very heavy indica-like effect but may users swear by its ability to deal with muscle
pain, joint pain (including arthritis), migraines, nausea and a host of other ailments and symptoms.
Genetics:
Californian Big Bud Skunk x KC606