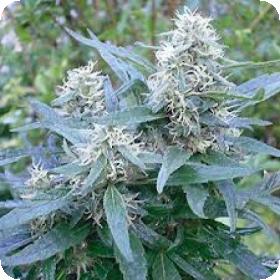 KC Brains Brasil is a high-quality, stable sativa hybrid derived from crossing Brasil's native Mango Vermelho with K.C. 606. These cannabis seeds have been engineered specifically for indoor growing.
The tallest plants grow to about 90 cm giving them the squat size of an indica with all the best qualities of a classic sativa. It presents with dark, thin green leaves that grow around a firm but thin central stem, leaving ample space for dense, compact buds to develop fully and light evenly.
Brasil tends to grow in a classic Christmas tree shape, making it a good idea to control growth by clipping the tops of its branches. This will help promote growth of the maximum number of flower sites and increase the quality at the same time.
These plants are very impressive yielders. Most plants will produce at least 150 g of great quality product per plant. These are excellent yields, especially when one considers their size. Flower time is between 63 and 84 days, after which time new buds will appear and bring with them a particularly strong aroma. The buds grow extremely large and become coated with thick, sticky resin as they reach full maturity. THC content is high.
Growers who prefer outdoor cultivation will be pleased to learn that KC Brain Brasil does take well to this method as well. One will notice that the plants grow much taller - up to 3 metres in some cases - and produce yields of as much as 800 g per plant. They also mature early outdoors with a flower time of between 7 and 10 weeks, depending on when they are planted. First harvest can be reaped in September and the plants will stand up to the weather well into October.