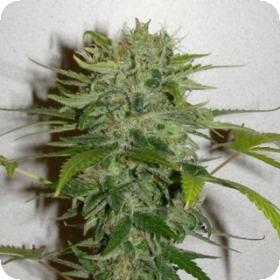 Cristal Limit Feminised Seeds
KC Brains Cristal Limit Feminised is a super-stable, well-balanced indica/sativa hybrid cross of two exceptional cannabis strains: Cristal and K.C. 606.
It produces an effect that has virtually no ceiling and possesses truly award-winning qualities having taken First Place at the 2002 High Life Cup.
The plants grow short and bushy with thin, light green leaves that are typical to a dominant indica. They exhibit KC 606's ability to repel mould, fungus, and a variety of pests.
It produces large, sticky buds whose quality remains consistent under virtually any condition. Flower time never exceeds more than 9 weeks. The new-formed buds are enchanting to look at and possess sweet hashy aroma that is intoxicating all on its own.
KC Brains took great care to ensure that Cristal Limit seeds were made suitable for growing both indoors and out. Outdoor harvest can begin late September and extend into late October.
Plants grown outdoors are capable of stretching up to 2.5 metres. Indoor plants remain more petite at 95 cm Maximum.
Regardless of where they're grown, yields from Cristal Limit are astonishingly high. Growers can expect upwards of 110 g per plant indoors and a staggering 750 g outdoors.
Mature buds are large and sticky and become covered in long, shimmering crystals loaded with THC.
Like most indica-dominated cannabis strains, Cristal Limit offers a pleasant body-buzz effect that promotes relaxation, relief from stress, and an overall sense of calm and placidity.
When compared to other indicas, it is also a very effective full-body pain reliever and is often used to treat other symptoms including nausea, migraine, and insomnia.
These seeds are easy to grow and are well-suited for growers still developing their skills since the plants don't demand much in the way of maintenance to perform well.