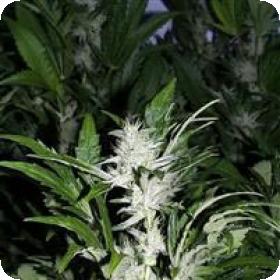 KC 45 is an effective medical marijuana strain. It is a unique hybrid cross between Ruderalis and Brazilian Sativa. It is a naturally strong-performing strain that produces respectable plants and huge, sticky colas with a strong, distinctive lemony smell.
They perform well in practically all weather conditions, even in climates that are predominantly cloudy.
Although these plants grow much better outdoors, indoor growers can also get decent yields from KC 45 with an aggressive lighting scheme. Outdoor plants grow as tall as 7 feet and take on a distinct Christmas tree shape.
Growers regularly report yields of an unbelievable 3-pounds or greater per outdoor plant. It's no wonder why either: the colas can measure upwards of a metre long on average. The colas are not packed particularly tight but are individually compact and slim.
The aroma intensifies when cured and really releases when ground.
The Brazilian Sativa makes a strong contribution to KC 45, giving it a sharp, lucid effect that blends well with its underlying indica qualities. It has a very uplifting effect that is very strong and immediate.
The ruderalis has a particular mellowing effect that keeps the reins on the hyperactivity and keeps the user very clear-headed. The result is a distinct calm but lively high that works well on muscle pain and gives the user motivation and energy.
If growing specifically for medical purposes, this strain does a great job of treating all common ailments such as nausea, migraines, and a variety of other physical and emotional symptoms.
It is also very easy to grow so novice growers who just want a personal stash for medical purposes will find that these seeds serve them well in both ease of cultivation and overall yield. These seeds are a great investment for both subsistence and commercial purposes.
Genetics:
Russian Ruderalis x Brazilian Sativa