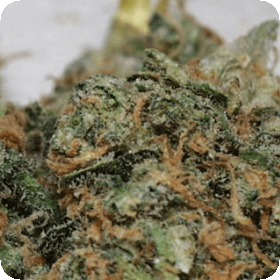 California Special Feminised Seeds
KC Brains California Special is a dominant indica cannabis strain derived from crossing Original California and Skunk. Both parent strains are known for their heavy narcotic effects.
It retains Original California's ease of cultivation and productivity along with Skunk's genetics, allowing it to grow practically anywhere.
Together with its unique aroma and flavour make California Special a much anticipated and appreciated variety among those who know it and love it. These mostly indica plants grow moderately bushy with thin, light green that form around their thin, sturdy stems.
The leaf-to-bud ratio is very well-balanced allowing the buds enough light and space to develop fully.
California Special performs well both indoors and out and performs best in pots or soil. Its flowering period is 7-10 weeks indoors. Outdoors, they need to be harvested sometime between late September and mid-October.
Wherever it's grown, California Special provides exceptional yields. 130 g for indoor plants and upwards of 700 g outdoors are common. Maximum height is about 130 cm indoors, but they can grow to around 3 metres outdoors.
This strain is very versatile in that it is able to perform well under virtually any weather or climate condition short of freezing temperatures and widespread frost. The plants are extremely vigorous and impressively resistant to plant diseases, mould, fungi, and pests.
This Harvest Festival winner is also very resinous with its shimmery crystals extending to nearly the end of it large leaves. The more they branch, the more they yield so being conservative in pruning efforts is advised.
Being a typical indica, California Special has high CBD content and a balanced amount of THC. It delivers a heavy, sleepy effect, that produces a relaxing full-body stone and also effective relief from muscle and joint pain.
Combined with its interesting aroma is the flavour sweet citrus and hash mixed with classic Skunk.
Genetics:
Original California x Skunk