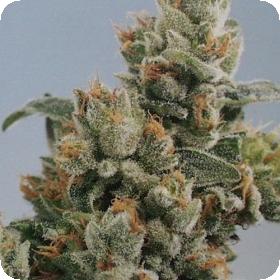 Being a dominant sativa, KC36 behaves like one would expect. The seeds produce plants that are tall and thin light green, narrow leaves and thick, chunky buds. The average size for these plants is between 1 and 2 metres when grown outdoors. Indoor plants generally don't get much taller than 75cm.
KC36 takes its time finishing like any dominant sativa and also requires more light than average. Growers typically recommend an 18/6 light cycle during vegetation while some even say that lighting perpetually for the first several weeks will yield the best results
This strain's CBD content is low and THC is very high. The effect is strong but clear-headed and energetic. Once it flowers, KC36 is done inside 9 weeks outdoors (8 weeks indoors) but it will take its time getting there. Still, like any good sativa, the wait is well worthwhile.
Just like KC33, this strain is impressively resistant to mould and fungus and repels most common pests. As they reach maturity, the buds emit a very pleasant, zesty lemon smell. That smell is a good test for doneness. The more intense it gets, the closer you get to harvest time.
Average outdoor yields with KC 36 are incredibly high. About 900 g per plant is not at all unusual. Harvest can begin by the end of September and continue through to the end of October. Indoor plants typically yield around 175 g per plant.
These are great seeds for growers who love a good quality sativa but don't have a lot of experience growing cannabis. These seeds are feminised which eliminates much of the guesswork from the process. They also require very little maintenance and produce well with little to no clipping or pruning.