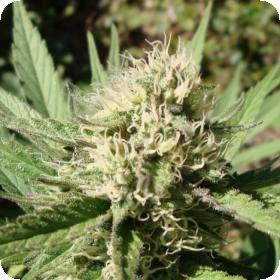 T.N.R is an innovative Thai-based hybrid. It is the result of crossing Thai with their own KC2. The result: a new and very powerful indica-dominant cannabis strain that is best suited for outdoor cultivation.
These plants are remarkably resistant to moulds and fungi and are naturally repellant to the pests that commonly plague cannabis plants. The hybrid balance is evident in the look of these plants as they possess distinct sativa and indica qualities all around.
The sativa genes, however, shine through in a number of ways, not the least of which being the height of the plants. These beauties can grow to an astonishing 4 metres high and produce huge, abundant colas when the conditions are right.
The indica traits show themselves in faster flowering and higher yields.
The flower period is only about 9-12 weeks on average and yields can top out above 1000 grams per plant - a commercial grower's dream come true!
Harvest time is late in the Northern Hemisphere at mid- to late-October but these plants should not be left out in frost - it is the one thing that can damage them.
CBD content is high with this strain which lends it well to a variety of medical applications. The effect is very mellow but very thick and sleepy. This is a great strain for treating all kinds of muscle aches and pains as well as sleep disorders and migraines.
Indoor growers should note that they are not excluded from growing T.N.R - the yields will just be smaller (along with the plants). It is a drastic difference, though, at only about 150 g per plant but all the quality is there.
This is also an ideal strain for beginners and novices. Better still, this is one plant that plays well with others - it grows well alongside other strains due to its flexibility with its environment and lighting.