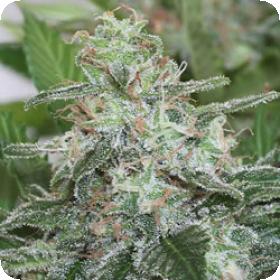 Brains Choice Feminised Seeds
Brains Choice is a dominant sativa cross between a Lambsbread Jamaica 94, a Ledo Uno 96, and a genetically-superior White Widow. It was specially designed to meet the expectations of certain growers who were looking for a new strain that would be easy to grow, produce a great quality product, and produce lots of it.
Brains Choice retains the most desirable characteristics of all of the parent strains. They are mostly-sativa, so they produce plants that are tall, light green, and strong. They are very consistent so they grow well both in groups or just one at a time. The genetics are very stable so all plants are uniformly resistant to pest, moulds, and fungi.
Like the vast majority of feminised strains, these seeds are a great choice for beginning growers. They require little in the way of maintenance and are not overly-demanding when it comes to growing environments and methods. The plants can reach heights of up to 2.5 m and yield upwards of 900 gr. per plant when grown outdoors. They remain more petite indoors, growing to a maximum height of about 100 cm. Even at those heights, they are impressively productive, yielding an average of 160 gr. per plant.
The short flower period is another characteristic that make this strain so popular among growers. They finish within 8 to 10 weeks, during which time a massive numbers of flowers turn to sturdy, dense, medium-sized buds. They develop a coat of sticky, snow-white resin which give Brains Choice a tempting frosty look. THC content is very high, making for a powerful, long-lasting effect.
Brains Choice begins to flower rapidly once the days start getting shorter and the quality improves when left to grow as long as possible. It is a great choice for a late harvesting but do not expose it to frost.