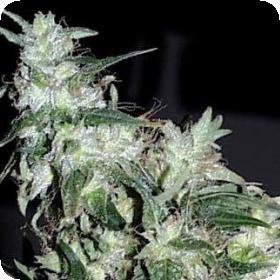 Haze Special Feminised Seeds
Haze Special is one of the top-rated strains in the KC Brains catalogue. It is a mostly sativa, very stable cross combining the best genetic attributes of Neville's Haze and KC 606. These seeds are ideal for growing indoors and also performs well outdoors.
One of the top selling points with these seeds is that Haze Special is said to have the shortest flower period of every known all- or mostly-sativa strain. At only 6 to 11 weeks, the best can be had on a comparatively short timeline.
Haze Special produces plants with a typically sativa look. They grow to a medium-tall height (up to 2.5 metres outdoors) with thin, narrow, light green leaves. When grown indoors, they remain more petite - about 4 feet average - and work well in any grow setup including potting, soil, and hydro. Specialty methods like Sea of Green can help the plants produce more vigorously and provide more potent product.
We've already mentioned that this is a speedy sativa. Most take much longer to finish than Haze Special. Blink and it starts to flower (yes, it happens that fast - or at least seems to). Outdoor harvest begins at the end of September and can continue as late as early November. These are formidable plants and can even handle a night or two of frost but should be brought in before temperatures permanently drop below freezing at night.
These plants produce as much as 800 g per plant outdoors, and about 160 g per plant indoors. THC is high and CBD is low, making this more of a recreational strain than medicinal, but medical users who prefer a heavier effect will experience relief from joint pain, nausea, and migraines with Haze Special. The effect is typically sativa: clear-headed and energetic with virtually no ceiling.