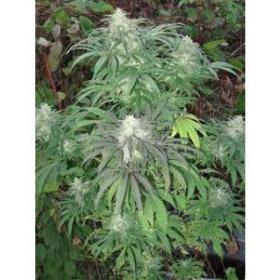 Brains Damage Feminised Seeds
Brains Damage Feminised is a stable hybrid cross between Acapulco, Mango 2001, Hawaii 93, and KC 36.
It is a great producer when compared to its parent strains as it takes all the best qualities of each and combines them into a bud-producing powerhouse that is a true commercial grower's dream.
The seed selectors at KC Brains developed this new sativa-dominant to be easy to cultivate in most climates and in most parts of the world.
KC Brains is known for their commitment to quality and dependability. Brain Damage seeds have en extremely high germination rate and consistent genetics.
This particular train was developed for growing outdoors, but it shows great results indoors as well with preference to potting and soil. This strain produces plants that are tall and healthy with long, thin leaves that have a healthy sheen.
The ratio of leaves to buds is so well-balanced, both have ample space to develop fully.
Brains Damage seeds produce medium-sized plants with a short flower periods and exceptional yields. Flowering time is 8 to10 weeks on average, depending on the growing environment. Indoor plants will finish faster but yields will be lowered.
Indoor heights top out at about 90 cm and produce 140 g per plant. Outdoors, the plants can grow to 2 metres and yield 800 g per.
THC content is high and the Ideal harvest time is end of September since these plants flower quickly once the days start growing shorter. Leaving them a bit longer is fine, but they should not be exposed to frost.
This is a great strain for those who enjoy a cannabis variety with fresh and fruity flavours and slightly hashy aromas.
Those qualities intensify as the plants mature and are at their peak when lit. The effect is uplifting but full-headed and has virtually no ceiling.
Genetics:
Afghanistan x Double Afghani