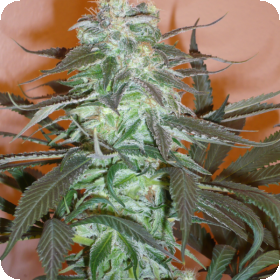 Mango Feminised is an ingenious mix of some of the great genetics from throughout the world of cannabis. It gets its distinguished qualities from its parent strains of Jack Herer and Korean Big Skunk (also known as Critical 47).
The plants possess a sweet and fruity aroma that is this strain's signature.
Mango is a favourite among growers who prefer specialised methods like Sea of Green and Screen of green, mostly due to the fact that these plants are the perfect size and shape for these setups and that they manage even better yields under these growing conditions.
For growers who prefer other methods, these plants are compact enough to grow in most indoor spaces including closets or grow rooms with low ceilings.
Although it prefers indoor setups, Mango can be successfully grown outdoors and will produce higher yields in proportion with its larger outdoor size.
One advantage of outdoor growing is that the leave will take on a deep purple hue when the wether gets cooler. This makes the plants more aesthetically pleasing but does not affect yields or quality of the end product.
The flower period for this strain is approximately 9 weeks on average indoors. Outdoors it's slightly longer. When grown outdoors, they can stand up well to cold nights so final harvest can wait until early November, just bring them in before any widespread frost.
Those familiar with the parent strains already know that Mango is a powerful nearly all-indica strain that delivers a classic indica effect.
Don't make any plans and then light up - those plans will go right out the window. Couch-locking, total relaxation, a full-on, all-over-body stone is what you get from this strain.
It is also an easy grow for first-timers or for any grower who wants a good no-nonsense, low maintenance plant with great indica qualities.