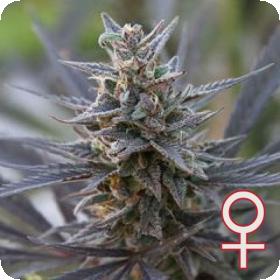 Spontanica Feminised Seeds
KC Brains is a stable hybrid cross of Secret Project No.1 and KC33. The genetic pairing makes this strain indica-dominant with distinct sativa qualities thrown into the mix.
Its growth pattern is very indica in appearance: bushy with dark green leaves and a thin but sturdy central stem.
The leaf to bud ratio is very well-balanced, so much so that each has enough light exposure to develop completely. The thing that distinguishes Spontanica from other like indica-dominant cannabis strains is its ability to produce absolutely goliath plants outdoors.
Some specimens have towered higher than 4.5 metres (more than 13 feet!) in height. Those sativa genes are definitely in there.
It's no real surprise, then, that a plant that grows so high would also deliver an exceptionally high yield. The outdoor yields can easily top 900 g per plant. Indoor plants are the polar opposite: they remain very short at only about 3-4 feet on average and yield about 150 g per plant.
For subsistence growers, though, that should be plenty to stash for a while and it does store well when properly cured. Flower time is about 8-10 weeks indoors, 9-11 weeks outdoors.
Outdoor harvest begins in late September and continues through mid or late October, depending on weather conditions. Growers in colder climates should bring their plants in earlier than opposed to later.
Spontanica was specifically bred for outdoor cultivation but indoor growers almost always report success, particularly in greenhouses where they will grow a little taller than in other setups.
Outdoors, they are very resistant to mould, fungi and pests that plague many other strains of cannabis.
Spontanica has a reputation for being particularly potent but it is also one of the easiest strains to clone, according to numerous growers. The plants produce buds that are big and dense and become covered in sticky white resin when fully mature.
Genetics:
Secret Project No.1 x KC33