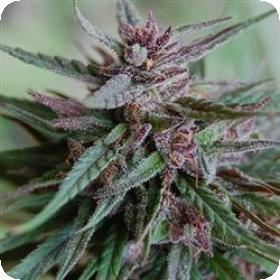 Bahia Black Head Feminised Seeds
Bahia Blackhead is a mostly-indica cannabis strain that originated in 1998 with a cross between a pure Brazilian female and two males. The resulting plant has an earlier finishing time in more temperate climates, while retaining all the best qualities of the original Brazilian.
It is a bushy plant with brightly-coloured leaves that grow more vibrant as it matures.
When Bahia Blackhead matures the buds and the leaves take on a dark-green hue. As it continues to grow, it forms new leaves which are often smaller providing evidence of its Sativa heritage.
The size of its buds helps it resist moisture and mould while helping it produce above-average yields.
This strain carries the distinctive Brazilian flavour: powerful, and a bit hashy, like its smell. The effect is a heavy Indica full-body stone that leaves the user couch-locked for a couple of hours at least.
It is a bit of a creeper but once it kicks in, it hits hard. Users can expect typically indica effects that are full-headed and deep.
Bahia Blackhead has been specifically bred for outdoor cultivation. It grows exceptionally large and produces excellent yields. It finishes early in temperate climates but will require a bit of attention to keep it under control since it can grow up to six feet tall.
KC Brains takes extreme care in selecting strains for hybrids that are particularly suited for outdoor growing potential.
Indoor growers should be aware that, yes, this strain will grow indoors but, it will require more space, both vertical and horizontal, than most growers wish to devote in any indoor setup smaller than a large greenhouse.
Yields will also be smaller with the added need for more aggressive pruning to ensure uniform lighting for the entire plant.
Genetics:
Pure Brazil & 2 KC 606 males