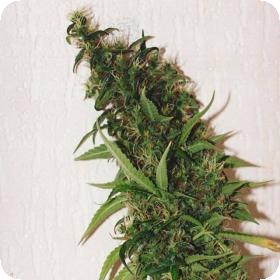 Get ready to experience a thoroughly impressive indoor strain brought to you by the mastermind breeders at KC Brains. Swiss XT is a high-quality sativa-dominant hybrid cross between Mr. Swiss and Double KC. It has some very sativa-typical qualities from its look to its effect, and yet it has a number of qualities that put it in a class by itself.
The plants have thin, light green leaves that are spaced perfectly around a sturdy central stem. Indoor growers particularly like their petite size. Most plants never grow taller than 80 cm (under 3 feet) and the leaf to bud ratio is so perfectly balanced it almost seems unnatural. The buds are given plenty of room to fully develop but they will want some space and a good lighting scheme to get there.
The flowering period for Swiss XT is very short, particularly for a dominant sativa. The flower period is a scant 45-60 days on average, depending on certain variables, mostly related to lighting. Given the choice, most growers would recommend giving these plants a full 60 days regardless of how ready they look - it will only improve resin production and make the finished product that much better.
Once fully mature, the buds are small and tight and coated with sticky resin. THC content is high, making this a rather potent strain that comes on strong but leaves the user clear-headed and alert. The effect of Swiss-XT is described as cerebral and soaring, leaving the user feeling creative and energetic.
The average yield for Swiss XT is around 130 gr. per plant. once the first flowers start the show, the plants start giving off a pleasing hashy aroma that intensifies as the buds grow and mature. It is a pleasant yet noticeable smell so discretion is an absolute must.
Genetics:
MR. SWISS & a KC private project