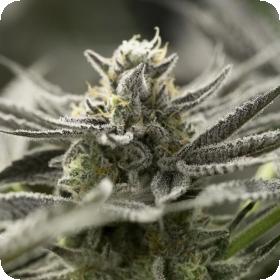 OGKZ FAST Feminised Seeds
Fast Flowering OGKZ is one of the quickest feminised seeds in the cannabis garden, with genetics that have been openly recognised in some of the most exclusive U.S. cannabis forums. 
She can produce a large number of resin-rich buds in a short period of time if she is given the attention she deserves. It's important not to overfeed her and to keep a close eye on her development if you want her to grow to her full potential.
Flowering quickly OGKZ is a hybrid strain that grows like a Sativa yet blossoms like an Indica. This indicates that her structure is initially open, but as she blooms, it grows denser. Her blossoming time is short, which is a real boon because it eliminates the risk of dampness and pests. Plants can be harvested in as little as 58 days, allowing for larger crops in less time.
A symphony of scents for your well-being, dive into a sea of feelings that is both delightful and aromatic.
Fast Flowering OGKZ 's main terpene is limonene, which gives her a lemon scent and has a calming effect. Her blooms are so densely packed with resin and terpenes that they emit intensely aromatic fragrances with rich citrus undertones, bitter, scorching tints, and spice overtones. Everyone will be captivated by this refined cocktail with a unique personality.
A few hits are all it takes to feel enormous serenity and joy and be taken to a level of well-being that you'll want to keep for the rest of your life. 
She's ideal for those stress-free moments when you just want to unwind and relax. Check it out for yourself and you'll see why she's one of America's party queens!