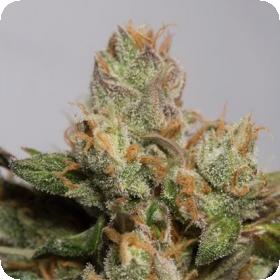 707 Truthband Feminised Seeds
This strain is a real winner, a medium-sized and easy to grow strain that produces huge yields. It is also super pretty to look at, always a plus in my book, with purple and red foliage that darkens as the plant matures. The flavour is also completely unique and completely delicious.
It tastes like a combination of spiced fruit, oil, pine and lemon so it's definitely a strain for the flavour connoisseurs out there. Its effect is fluffy and cerebral as well as being physical.
This dreamy strain is great for snuggling up with a good fantasy novel, or however you get your brain off. For those who are looking for rich scents and tastes mixed with a delightfully relaxing potency, look no further.
707 Truthband is a feminised strain, meaning that it will only grow lady plants. Feminised seeds are extremely popular with growers who just can't be arsed with all the faff surrounding male plants.
If they are not being used for breeding they have to be removed, this is so that they don't harm the females.
This means growers waste a massive amount of time, money and effort when they could just be dealing with females, and only females. Feminised seeds also tend to be higher in quality and uniformity.
For this reason they are also sometimes used by experienced breeders who are capable of feminised breeding.
This strain needs just 63 - 68 days to flower and grows well indoors or outdoors.
Remember that the cultivation of cannabis seeds is illegal in some countries, please check the laws of your country before attempting to cultivate cannabis seeds.
Genetics:
707 Headband X Maui X "The Truth" (Super Skunk X Chemdawg)