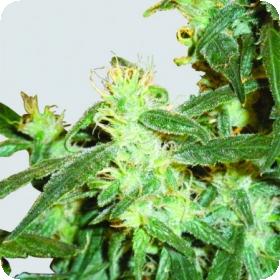 Lemon OG Haze Feminised Seeds
This is the 5th generation of this auto-flowering strain and it's just superb. The original was a cross between Lemon OG and Haze #1 which was then bred with Auto AK-48, a pretty impressive genetic combination. This strain has a great flavour and scent of fresh lemons with a hint of pine, extremely refreshing for a summers day. The THC is pretty high with medium CBD so it has a bit of a kick to it, but the over all effect is uplifting and Hazey with a nice relaxing bodily effect.
Lemon OG Haze is a feminised strain and will only grow into female plants. Feminised strains are primarily popular with growers, who have no use for the male plants. The males have to be removed towards the end of the flowering period to ensure that they do not harm the females.
As a result a grower can waste a huge amount of time, money and effort on pointless male plants. Feminised seeds are not only easier to grow, but are often higher in quality and uniformity. Some breeders even prefer to use feminised seeds despite the increased difficulty in breeding.
This strain needs 10 - 12 weeks to flower and can be grown indoors, outdoors or in a greenhouse.
Remember that the cultivation of cannabis seeds is illegal in some countries, please check the laws of your country before attempting to cultivate cannabis seeds.