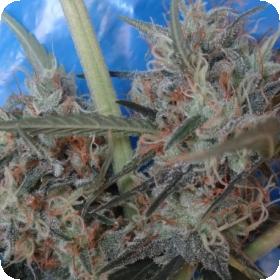 Congo x Kali China Feminised Seeds
Ace Seeds has put together this very special plant from a pure Congolese Sativa strain and their very own Kali China F4. This strain is an F1 hybrid and is a Sativa dominant beauty with a short flowering time and a fantastic yield.
The aroma is perfect for those old school plant fans out there, a classic mix of lemon and incense with a hint of mint.
Congo x Kali China is a versatile plant which grows well outdoors and in and has a THC production of 15 - 18%. It's effect is powerful, cerebral and intense, not for the faint of heart.
The structure of the plant is much like that of a tiny little Christmas tree with strong side branches and a compact central node. This structure means that it is quite resistant to mould, especially grey mould.
Congo x Kali China is feminised making it easier to grow and much more rewarding. Feminised strains tend to be of a higher quality and give a more uniform crop.
Male plants can also cause quite a few problems during the growing period and so would usually need to be removed. This is not only a waste of time and effort but a colossal waste of money.
This strain has a flowering time of just 10 - 12 weeks and, if grown outdoors in the Northern hemisphere, it should be harvested in October.
Please keep in mind that the cultivation of cannabis is illegal in several countries.
Genetics:
Congo Sativa x Kali China (F4).