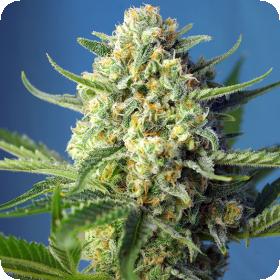 S.A.D. CBD Feminised Seeds
This strain is fantastic for medicinal users due to its low psycho-activity and high level of CBD. It is a typical indica plant with a large central cola and lots of side branches. These branches produce large numbers of flowers and trichomes.
S.A.D. CBD produces a decent yield and all of the buds are coated in a dense layer of sparkling resin. The aroma is an enjoyable mix of spice, wood, musk, sweetness and a fresh scent of cypress.
This strain can be used to reduce the symptoms connected with a number of issues including anxiety, convulsions, vomiting and nausea, inflammation and pain.
S.A.D. CBD is a feminised strain, which means it will only grow into female plants. Feminised seeds are primarily used by growers who don't plan on breeding their own crops.
For these growers the male plants are completely useless and can actually harm the female plants. This means that they have to be removed before the flowering process.
Since around half of a regular crop is male this can be a huge waste of time, money and energy. Feminised seeds also tend to be higher in quality and uniformity than regular seeds.
This strain has a flowering time of 8 – 9 weeks and can be grown indoors or outdoors.
Remember that the cultivation of cannabis seeds is illegal in some countries, please check the laws of your country before attempting to cultivate cannabis seeds.
Genetics:
Black Domina '98 x Diesel variety rich in CBD