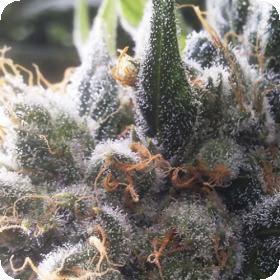 Barbara Bud Feminised Seeds
Barbara Bud is a cross between Shishkaberry and GG #1 which is named after a well known radio host. Shishkaberry, sometimes called Kish, is an Indica dominant hybrid between DJ Short Blueberry with an unknown Afghani strain.
Shishkaberry, as one might assume, has a sweet berry scent and flavour as well as having purple shaded leaves. The initial bus is a heady one and is perfect for getting things done and being social. However after a while the effect becomes much heavier and lazier.
Medicinally it is ideal for those suffering from stress, pain, depression, insomnia and muscle spasms. GG #1 is a pure Indica strain which comes from Afghani #1, one of the most popular landrace strains around.
It gives high yields as well as giving resinous buds and an earthy aroma with a spicy, smoky flavour. Primarily this strain is used as a painkiller.
The buds of Barbara Bud are covered in a frost coating of resin and it has an extremely fruity scent which makes it one of the most popular strains around.
Barbara Bud has one a number of awards including 1st place at the Treating Yourself Expo for Solventless Extract, 1st place at Spannabis 2014 in the Non-Solvent category, 2nd place at the Karma Cup in Toronto, and 3rd place at the DabaDoo Cup in Amsterdam.
Feminised seeds were created in order to make the growing process easier for growers and breeders everywhere. Feminised seeds will only grow into female plants which is primarily better for those interested in growing.
For growers who do not plan on breeding their own crops feminised seeds are by far the best option. Male plants can be a bit of a nuisance when it comes to growing as they must be removed at the start of the flowering process in case they hurt the females.
This means that around half of the seeds will be wasted and so half of the money that the grower spent on them. Breeders can also use feminised seeds as it is possible to breed two females together.
This process is much harder and so should only be attempted by experienced breeders. Female plants are capable of producing a pollen similar to that of the male plants. This pollen is used to fertilise the other female and produce feminised seeds.
These seeds will be of a higher quality as well as a more impressive level of uniformity than regular seeds.
This strain can be grown indoors and outdoors and has a flowering time of 7 weeks.