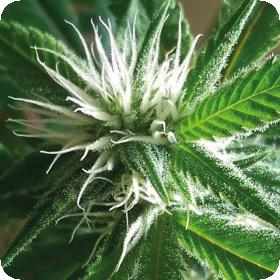 Banana Crack Feminised Seeds
For all of those growers and breeders who like a fruity strain with a bit of a kick to it, look no further. This strain really earns its name with its powerful and clear effect combined with its delicious flavour. A combination of banana, mango and peach leaves the mouth watering while the powerful buds relax the brain and the body.
This strain is great for social smokers due to it clear and happy effect, also great for those who are suffering from depression, anxiety and stress. Banana Crack produces thick, resinous buds that take a while to grow but are more than worth the wait.
Banana Crack comes in the form of feminised seeds which is ideal for growers who don't need the male plants. Males take up around half of a regular crop and can be a bit of a nuisance. This means that they have to be removed during the flowering period, or they could harm the female plants. Removing the males is a time consuming waste of energy that also wastes a huge amount of money.
Feminised seeds allow growers to buy twice the productive females for the same price. Some breeders also prefer to use them for their increased quality and uniformity. However, feminised breeding can be tricky and is not recommended for inexperienced breeders.
This strain take 56 days to flower and can be grown indoors, outdoors or in a greenhouse.
Remember that the cultivation of cannabis seeds is illegal in some countries, please check the laws of your country before attempting to cultivate cannabis seeds.