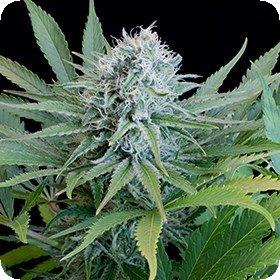 Peach Puree CBD Feminised Seeds
Peach Puree CBD is a strain that is extremely high in CBD, hence the name, and therefore makes a great medicinal strain. It is extremely uplifting and energetic which means that it can be used during the day or during the evening. It can relieve the symptoms of insomnia, anxiety, gastro-intestinal issues, muscle tension, epilepsy and can also help those suffering from cancer and aids.
This is because its CBD to THC ratio is an amazing 1:2 with a CBD level of 10% compared to a THC level of 5%. It smells strongly of citrus, peach and later on in its flowering it will take on an incredible, purple hue.
This strain is feminised and will only grow into female plants. Feminised seeds are ideal for those who have no interest in breeding their own crops. For these growers the male plants are simply a waste of time, space and money. This is because they have to be removed during the flowering process in case they hurt the female plants.
A lot of breeders also prefer to use feminised plants. Female plants can be stressed into producing feminised pollen, which is then used to fertilise another female. This is quite difficult and should only be attempted by experienced growers.
This strain is extremely versatile and can be grown both indoors and outdoors.
Remember that the cultivation of cannabis seeds is illegal in some countries, please check the laws of your country before attempting to cultivate cannabis seeds.
Genetics:
(Sweet Diesel x The Orange) BX