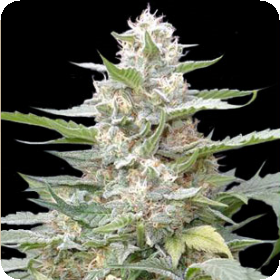 Lemon Amber Kush Feminised Seeds
Lemon Amber Kush is another unique marijuana strain from G13 Labs. This is a cross of Pot of Gold (F1) and the original 'elite' Lemon Skunk clone from Las Vegas.
The result of combining these two old skool strains produced very stable and consistent plants with very high yields. Thanks to the stable F1 genetics from both parents you will find the Lemon Amber Kush easy to grow and vigorous.
A bit of stretch is expected during the first weeks of flowering, but the Lemon Amber Kush grows strong and should be able to hold the buds without support.
The buds of the Lemon Amber Kush are rock solid when matured, with an orange and silver shine due to the many trichomes she produces on the buds and sugar leaves.
Due to the Pot of Gold influence in its genetic makeup you can expect many dense golf-ball sized buds along most of the branches with even the lower buds showing lots of bag-appeal. Lemon Amber Kush has a low leaf to bud ratio making her an easy crop.
Genetics:
Pot of Gold x Lemon Skunk