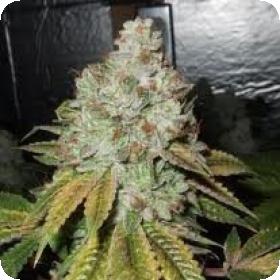 Larry OG Kush Feminised Seeds
Larry OG Kush is another great strain from the talented breeders at Cali Connection. This strain is based on the best Californian genetics and is a real winner.
One of their favourite things to do is to create brand-new strains using their legendary OG Kush strain. Larry OG Kush is another one of these great hybrids and is a cross of the famous Larry with a cutting of F3 OG Kush which has produces a pretty perfect strain.
The buds are dense and sticky with a delightful lemon scent.
These seeds can be purchased in their feminised form which means that they will grow exclusively into female plants.
Since they were created feminised seeds have been extremely popular, especially amongst growers who am a no not plan on breeding. However, they can still be used by more experienced breeders.
This is due to the fact that female plants, if stressed in the correct way, can produce feminised pollen. This pollen is then used to fertilise another female plants who will create feminised seeds.
Being able to achieve this is a great way to keep up a stock of feminised seeds which are higher in quality and in uniformity than regular seeds.
Feminised seeds are great for growers who don't plan on cultivating their own crops because they remove the issue of the male plants. During the flowering period the females will create buds, which will be harvested, and the males create pollen.
If this pollen comes into contact with the buds they will turn into seeds and no longer be harvest-able. This means that the males will need to be removed at the start of the flowering process.
Since around half of a regular crop is male this can be a huge waste of time, money and effort for the grower.
Larry OG Kush is extremely versatile and can be grown both indoors and outdoors. It has a flowering time of 8 weeks and gives a large yield.
Genetics:
SFV OGK F3 male x the Larry clone