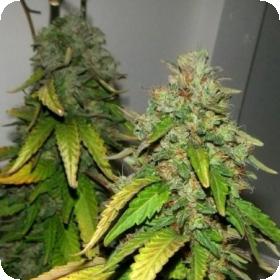 This is a combination of two strains which were born decades apart, two to be exact. It is part '76 Afghan and a pre' 98 Bubba Kush. It is Indica dominant and has a pretty impressive yield. This yield can be amplified by tying the branches and creating more perpendicular colas.
There is a slight difference in the flavours between phenotypes, ranging from earthy pepper to a sweet berry taste. It has an extremely soft smoke to it which is perfect for those who need something happy and relaxing. It is also great for medicinal users and works well as a means of combating insomnia and chronic pain.
Bubba 76 is a feminised strain, making it ideal for growers. Usually a regular plant would be half female and half male. The male half is completely useless to most growers and is even a huge waste of money. This means that growers can save on important resources that will be better used on the female plants.
Breeders can also use feminised strains, as long as they are an experienced breeder. Female seeds can be stressed in a way that causes them to produce feminised pollen. This pollen is then used to fertilise another female and create feminised seeds. These seeds are higher in quality and uniformity than regular seeds would be.
This strain will need 49 - 56 days to flower and can be grown indoors or outdoors.
Keep in mind that the cultivation of cannabis is illegal in several countries. Please check the laws of your country before attempting to grow cannabis seeds.
Genetics:
'76 Afghan x Pre '98 Bubba Kush