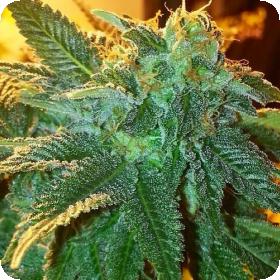 This impressive strain is the second release of the popular original Alien series. This series featured strains such as Alien Dog V2, Alien Invasion, Alien Bubba, and Grass Knuckles V2.
The strain is potent and wonderful with everything that a user would hope to get from the Tahoe OG. This strain has an extra coat of trichromes which comes from the Alien Kush side of the family.
The strain is potent and long-lasting, not recommended for beginners or those with a weaker constitution. This strain is guaranteed to impress even the most discerning cannabis connoisseurs.
This strain is feminised which means it will only grow into female plants. Feminised strains are extremely popular amongst growers since they remove the issue of the male plants.
During the flowering period, when the females are growing buds, the males are producing pollen. If the males are not separated from the females before this time the pollen will turn the buds into seeds and destroy the harvest.
If a grower purchases regular seeds around half of the crop will be male, half of the crop will need to be removed, and half of the money spent on it will be wasted. Feminised seeds are also of a generally higher level of quality and uniformity than regular seeds.
Feminised seeds are not just for growers however, they can also be used by experienced breeders. Female plants can be stressed in such a way that will cause them to produce a feminised pollen. This pollen is then used to fertilise another female who will produce feminised seeds.
This strain can be grown indoors and outdoors, has a flowering time of 8 weeks and can produce a yield of up to 450 g/m2.