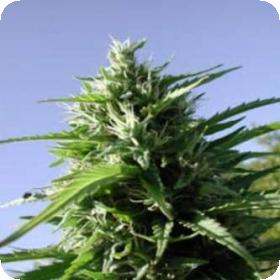 As newer sativa blend, Ace Seeds Tikal's roots can literally be traced to the jungles of Guatemala. It is one of the best growing options for novice growers who would benefit from working with an easy-to-grow cannabis strain.
Tikal thrives with little attention both indoors and outdoors. It is versatile enough for planting in soil, pots and hydroponic growing environments yielding impressive results across all platforms.
Tikal's formidable genetics allow their seeds to thrive in all kinds of climates when grown outdoors. Its trichome yields are very impressive as is its high flower and bud density. The experience provided by Tikal is second to none.
Just the strawberry aroma it gives off is enough to lure one in. This is one bold sativa that grows slender and tall, like a quality sativa should. Experienced growers can increase yield with a little pruning.
Why ACE Seeds?
ACE Seeds offers a variety of fine cannabis strains that provide superior growing and experiential qualities. Their yields are singularly impressive under all appropriate growing condition.
ACE breeding standards offer growers a rewarding experience in both the cultivation and use of the end product.
The overall adaptability of ACE Seeds lets growers who choose them to enjoy steady success rates and yields that are impressive to say the least.
ACE seeds represent a commitment to and appreciation for all things cannabis.
The result of this commitment to excellence is the cultivation of the best quality cannabis specimens available and seeds that out-perform the competition every time.
Why Feminised Seeds?
Feminised seeds are genetically engineered to exclude male chromosomes. This ensures that your plants will flower and produce hardy, resinous buds.
Cultivating feminised seeds is easy and their yields are sure to impress. They are also the perfect seeds for hobbyist or novice growers being easy and predictable seeds with which to work.
Please remember that the growing of cannabis plants and the cultivation of seeds is illegal in some countries - please check the laws of your country and don't be growing any plants if it is against your country's laws.
Genetics:
Guatemala Sativa X Kush Haze