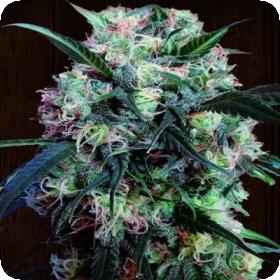 Kali China Feminised Seeds
Kali China by Ace Seeds is one of the breeder's great China Yunan hybrids, combining the power of their Kali Mist x China Yunan with a pure China Yunan to accentuate the best qualities of this great mostly-indica strain.
The plants grow nice and compact and flower quickly. This is, of course, doubly good news for indoor growers. Add to the mix that these seeds are feminised and produce zero male plants and the advantages become crystal clear.
Regardless of whether the grower is new to the game or a seasoned cannabis-growing veteran, these seeds will yield great results and an incredible product.
The flavour and aroma profile of Kali China is a mixture of sweet cream, Mango juice, incense, and oriental spices. Some even say they gets hints of a backyard barbecue hiding in the endnotes.
It stimulates the palate every bit as much as the rest of the body making it one that actually has strong gastronomic qualities along with the kinds of effects that define a great mostly-indica hybrid.
That effect stands out particularly because of the complexity of its flavours and aromas but also because of its particularly psychedelic effect that is somewhat unusual in an indica. Kali China will leave the user both relaxed and stimulated.
It promotes getting into deep meditative states without inducing sleepy time.
Indoor growers will appreciate how the size of these plants allows for growing in any setup and how basic they are to care for. Flower time averages just 8-9 weeks and yields are great for their size.
Outdoor growers will also appreciate how easy-going these plants are, how well they resist plant diseases and pests and how they stand up to the elements with no decrease in quality. Plan harvest for late September or early October and do not expose to frost.
Genetics:
(Kali Mist x China Yunnan) x China Yunnan