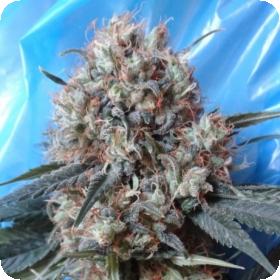 Nepal Jam x Kali China Feminised Seeds
Nepal Jam x Kali China is a Sativa dominant strain with a great flowering time, a compact structure and a fabulous yield. It grows well outdoors and indoors and requires very little physical maintenance such as trimming and manicuring.
It is also resistant to most diseases, pests and temperatures. It is a cross of Nepal Jam and Kali China, funnily enough, which are two of Ace Seeds most popular strains.
Kali China especially has been used in a number of other top quality strains. It has a decent THC percentage of 15 - 18% with a 2% CBD level. It smells of sweet caramel and has a happy yet complex high that goes on and on and on.
This hybrid is feminised which means that the seeds will only grow into female plants. Feminised seeds are especially popular amongst growers who have absolutely no need for the male plants.
Regular seeds will grow into around half male and half female and so cause the grower to buy twice as many seeds to receive the same number of female plants.
These are not quite so popular amongst breeders due to their single gender nature but advanced breeders can actually breed two females together. The result is a higher quality and much more uniform crop than can be achieved through regular breeding.
This strain has a flowering time of 56 - 63 days and when grown outdoors it should be harvested towards the end of September or beginning of October.
Keep in mind that the cultivation of cannabis is illegal in several countries. Please check the laws of your country before attempting to grow cannabis seeds.
Genetics:
Nepal Jam (F7) x Kali China (F4)