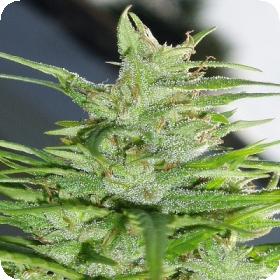 This strain has been created by crossing one of the oldest and most powerful Sativa plants that Ace Seeds has at their disposal, Malawi, and the aromatic Tikal 4 line. The result is Guawi, a plant that grows vigorously, produces amazing yields and is definitely Sativa dominant.
The Malawi mother is well known for her intense power which can get the better of even the most seasoned smoker. The Tikal side of the family contributes its short flowering time, strong structure and large flowers as well as its distinctive taste.
This strain is great for anyone who's looking for a bit of a smoking challenge but doesn't want to put an insane amount of effort into growing. The effect is powerful and long lasting with an intense mental high at the start but finishing with an intense physical relaxation.
This strain is resistant to mould and does well in warm, outdoor climates.
Guawi is a feminised strain and so will only grow into female plants. Many growers find the male plants to be little more than a nuisance during the growing period and have to remove them from the crop.
This wastes a lot of precious time, effort and of course money. Feminised seeds are also thought to give a higher quality result with a much more uniform crop. For those breeders out there with a fair bit of experience it is also possible to breed female plants together.
If they are correctly stressed they produce feminised pollen and the resulting seeds will be far more impressive than those born of regular breeding.
The flowering time for this strain is 11 - 12 weeks and it should be harvested outdoors in November.
Please keep in mind that the cultivation of cannabis is illegal in several countries.
Genetics:
Old Malawi Killer x Tikal 5