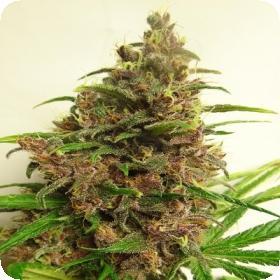 Malawi x PCK Feminised Seeds
This cross from the breeders at Ace Seeds is the big sister of the popular Violeta. It is a combination of the classic Malawi mother and a Pakistan Chitral Kush. It is an F1 Sativa and Indica cross that is going to blow some minds.
This strain isn't quite as compact as it's sister but is a more vigorous grower with a higher yield and a good bit of power behind her. It will grow much taller in an outdoor environment but does take a little longer to flower.
The colours are indicative of a Pakistani plant with gorgeous maroon hues and the scent of forest fruit. It is resistant to mould and damp and can easily be grown indoors or out. The effect is a pleasant Sativa and Indica effect without being to extreme on either end of the scale.
Malawi x PCK is a feminised strain which means it will not grow any male plants at all. Many growers are sick to the back teeth with male plants as they can be a massive waste of money, time and energy.
The male plants would usually need to be removed from the crop before the flowering phase which means a grower would need to purchase twice as many seeds to receive the same number of female plants.
Feminised seeds also tend to be of a better quality and create much more uniform plants.
When grown indoors this plant needs about 10 - 11 weeks to flower and if it is grown outdoors it should be harvested in early October.
Please keep in mind that the cultivation of cannabis is illegal in several countries.