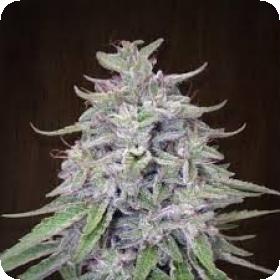 Bangi Haze Feminised Seeds
Bangi Haze Feminised by Ace Seeds is a hybrid cross between a female Congolese and a male Nepalese. It has a history of inbreeding and back-crossing that is generations long. It is also a fast-flowering, easy-to-grow strain, particularly in its feminised form.
The aroma of Bangi Haze is a pleasing mixture of spice and sweetness that fits perfectly with its signature taste. Its effects are potent but also mellow.
The plants grow to a compact and manageable size and shape and thrive well indoors as well as out. The results are equally impressive when grown in either soil or hydro setups.
The seedlings can be transferred to individual pots when they reach a height of 9 inches. Mature plants will reach an average height of 33 inches and present with multiple nodes full of generous trichomes.
Yields with Bangi Haze are average and it might not produce in huge quantity, the quality more than makes up for it. After about 9 or 10 weeks flower time, the plants begin producing buds that are particularly thick and hard.
Plants that are grown outdoors and get the full benefit of summer sunlight are said to provide better yields but adequate indoor lighting can and does have a similar effect.
Bangi Haze grows well in a number of conditions. The plants adapt well to colder climates but will generally be harvested before the nights become too cold. Harvest begins in late September and continues into early October.
The cured buds emit a curious aroma that are reminiscent of frankincense, shallots and sweet onion. Those smells can be a bit of an assault on the senses but it is also a bit hypnotic. The flavour is sweet like honey with an end note that is much like a bitter liquorice.