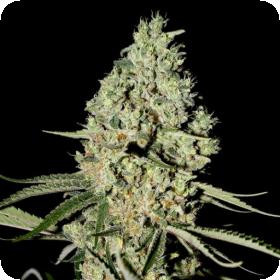 Super Critical Feminised Seeds
Super Critical Feminised is an original hybrid cross that gets its genetics from three of the world's most beloved strains: Big Bud, Skunk, and White Widow. It is a mostly indica variety that produces a strong, hard-hitting narcotic effect that eventually tapers to a smooth and relaxing finish.
Members of the medical marijuana community find Super Critical to be a noteworthy strain for pain management and appreciate the naturally low THC content. CBD content for this strain is also low, which is a notable aspect to those who use marijuana for medical purposes. Oftentimes, low CBD content is considered a drawback for those applications.
Outdoors, these plants finish after only about 8 weeks and they are even faster to flower outdoors. Indoor growers can expect yields of anywhere from 500-800 g per square metre, while outdoor growers can expect to harvest up to 1200 g per plant.
Super Critical Feminised is great for indoor growing. It's squat size makes it ideal for smaller grow spaces like shelves, balconies, and closets. They are also ideal for growing in SOG, ScrOG and DWC setups.
Outdoor growers should plan harvesting of Super Critical around the end of September in the Northern hemisphere. Allowing these plants a majority of warm summer days will enhance the quality of the finished product (although yields tend to be steady regardless of the grow method).
Super Critical is a great strain for first-time and novice growers owing to its ease of cultivation. There are few mistakes (if any) that one can make with these plants. They require only basic maintenance and care and very little pruning. Whether the grower is new to the cannabis cultivation game, or simply prefers to work with strains that require minimal effort, this one will not disappoint.
Genetics:
Big Bud x Skunk x White Widow