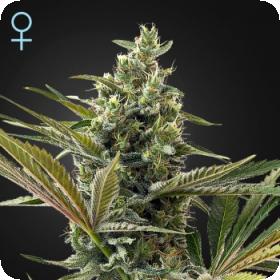 Super Lemon Haze CBD Auto Feminised Seeds
Super Lemon Haze Auto CBD is a sativa dominant high CBD strain with 60% sativa genes and 20% indica and sativa genes blended in.
It has a complex sativa effect with a delicious lemon/citrus flavour. 
This is a sativa lover's medicinal strain par excellence, with a 1:1 THC:CBD ratio and overall levels of each of these cannabinoids ranging between 5 and 8%.
Indoors, a harvest of 500 gr/m2 is possible in 9 weeks from germination, especially if plants are given 18 hours of light per 24 hours; outdoors, yields will be in the region of 60 gr. per plant. 
It will grow to a maximum height of 80-100 cm outdoors, and possibly a little less indoors, depending on the size of the container in which it is planted. 
Its CBD content makes it a good medicinal strain with a light body stone and a quick cerebral high, though it is not overly psychoactive for those who prefer a milder effect.
Genetics:
Super lemon Haze x Ruderalis