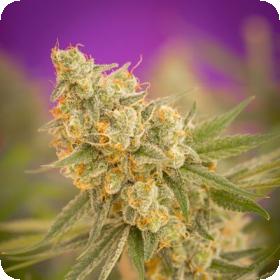 A cuvee is a type of wine which has been blended from a mixture of numerous grape varieties. As with wine, it takes expert knowledge to create a superior blend of cannabis genetics. This wicked strain is the result of the masters at TGA Subcool crossing a Pinot Noir (Original Blackberry Kush x Vintage 1978 Pakistani) with Space Queen.
Short in stature, this strain nonetheless produces dense, crystalline buds with a very high flower to leaf ratio making for some mammoth yields.
Taste-wise, this variety is incredibly indulgent, with creamy cocoa elements, glace-cherry flavours and a delightful malty aftertaste.
Calming the mind, body and soul, this strain is perfect for de-stressing, or taking a load off after a busy day: A great night-time variety.