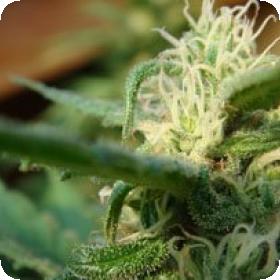 Angel's Breathe (Mango Haze x Afghan Haze) Regular Seeds
Angel's Breathe is a bit of an over-achiever but in cannabis terms, that's always a good thing. Mr. Nice has a reputation for developing plants that are excellent performers and this one is no exception.
At 400-550 g per square metre, these plants are awesome producers for a non-feminised variety. Mr. Nice is also a premier breeder of both parent strains making these an exceptional choice for quality and reliability.
The flavour of the Mango Haze side is prevalent in the smoke and the effect is as good as a balanced indica/sativa can get. It will make the grower wait a little while - usually 11 or 12 weeks - but it will be well worth it.
The Haze genetics make these plants a little particular when it comes to handling and cultivation but experienced growers should have no problem pulling off a sizeable harvest.
Indoor growers will want to keep Angel's Breathe on a consistent 12/12 light cycle under 600 watt bulbs during the flower period. All normal grow methods will work well including potting, soil, and hydro.
The stature of these plants also lends them well to SoG and ScrOG setups. Best of all, they take up little vertical space since they only grow to a height of about 1 metre on average.
Outdoor growers will appreciate how well the plants acclimate to growing in a variety of climates. They resist mould and fungus well making them suitable for growing in areas that are particularly humid.
Warmer climates are better, as are areas with few annual rainy days since direct sunlight has a profound effect on both the quality and quantity of yields.
Plan to harvest Angel's Breath well before first frost - late September to early October at the latest, particularly in areas with seasons that change drastically.