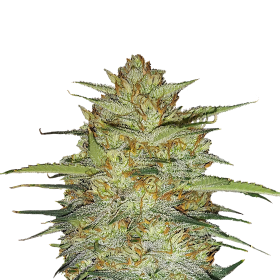 Original OG Kush Auto Feminised Seeds
FastBuds Original OG Kush Auto offers the highest THC level of the FastBuds Original line. Fans of couch-lock will love this!
This auto strain has a great terpene profile, is suitable for beginning growers, and produces good yields in a short life cycle.
Because both OG Kush and this auto-flowering variety from FastBuds are native to California, they are well-suited to hot days and cool nights, making them perfect for indoor and outdoor cultivation. 
This is a medium-sized, Indica-dominant variety that will consume large amounts of nutrients and grow to a height of 70-110 cm. Apart from that, just minor upkeep is required.
It has the appearance of a plant with a primary cola in the centre supported by thinner side branches. 
This is a strong-smelling plant whose terpenes will need to be mitigated indoors with the use of a decent carbon filter. Even when used outside, its strong odour may cause others to get alarmed, thus caution is advised. 
From seed to harvest, Original OG Kush takes 9 weeks and yields between 450 and 550 grammes per square metre. 
The buds are petite and compact, with a considerable amount of resin production.
Pine, citrus, and a pungent earthiness with fuel notes support the flavour. 
THC levels have been recorded at 23%, but CBD levels have been reported as "very low." 
The effect is not for the faint of heart; powerful, lethargic, and heavy sensations that progress to a dream-like condition as consumption increases. 
Medical marijuana sufferers or those in need of great relaxation are likely to benefit from it.