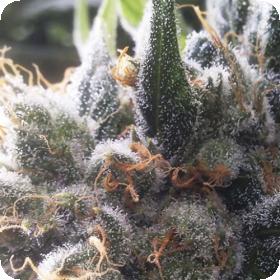 Barbara Bud Regular Seeds
Barbara Bud, named after the famous radio presenter, is a superstar strain for a number of reasons. The strain is a gross between GG #1 and Shiskaberry, both of these are much loved strains. GG#1 is a pure Indica strain derived from a popular Afghani landrace. This strain gives high yields and is a resinous and potent strain. GG #1 is most popular because of its pain relieving properties.
As it is a strong Indica it is ideal as a night time medication. Shishkaberry, otherwise known as Kish, has a powerful and fruity aroma. It grows a delightful shade of purple and gives a social and happy initial buzz with a lazy after effect. The combination of these two strains has created the award winning strain Barbara Bud. Barbara Bud has won a number of awards including; 1st place at the 2014 Treating Yourself Expo for Solventless Extract, 1st place at Spannabis 2014 in the Non Solvent Category, 2nd place at the Karma Cup in Toronto in 2014 and many more.
This strain comes in its regular form which means it will grow into a combination of male and female plants. It also means that they have not been altered in order to make them more user friendly. Regular seeds, although decreasing in popularity, are still used by more old school growers and breeders.
They are especially popular amongst breeders as the easiest method of breeding involves using both male and female plants. Since regular crops will grow into a roughly even number of males and females there are plenty of options when it comes to choosing the parent plants. The parent plants will pass on their genetics to the next crop, and so if the breeder chooses the very best male and female the next crop will be of a higher quality. This is also the perfect opportunity the breed out any genetic weaknesses found in the previous crops. Regular seeds are also often used by those who would like to reintroduce cannabis into the wild. If placed in the correct environment regular seeds can breed and thrive on their own.
This strain has a medium THC content and a CBD content of 0.12%. It can be grown indoors or outdoors and has a flowering time of 7 weeks.
Genetics:
Shishkaberry (f) X GG #1 (m)